THE ARCHIVES
Other ads i've made over the years
PRESS AD FOR THE TIMES- 2017
FIRST CHOICE 2018 BRAND CAMPAIGN- GO MAHOOSIVE
CREATED AT Y&R LONDON. DIRECTED MY EMIL NAVA
FIRST CHOICE SUMMER SNAPS- EXPERIENTIAL IDEA
CREATED AT Y&R LONDON
We needed to get families in grey and drizzly Legoland excited about the prospect of a First Choice holiday.

We decided to make our very own holiday filters that appeared on people's faces when they stood infant of a holiday background. The filters were fun, bright, and pretty silly, which perfectly reflected the tone of First Choice as a brand.
BBC GENERAL ELECTION
CREATED AT Y&R LONDON. DIRECTED BY STEVE REEVES.
Brief
Advertise the BBC's factual and unbiased coverage of the 2015 General Election

Idea
The Election Promise manifesto. We wanted to communicate that the vast wealth of experts and specialists at the BBC will be doing all they can this year to make the General Election clear for everyone. Who better to pledge their promise to the nation than those will truly be getting to the heart of the election... the presenters and journalists at the BBC.
GEORGE HOME- OPPS!
CREATED AT FALLON LONDON
HOLLAND & BARRETT- THE GOOD LIFE
CREATED AT Y&R LONDON
Land Rover April fools
CREATED AT Y&R LONDON
M&S ADVENTURES IN PRESS
CREATED AT Y&R LONDON
FERRERO ROCHER
CREATED AT Y&R LONDON
BBC IPLAYER- DIGITAL CAMPAIGN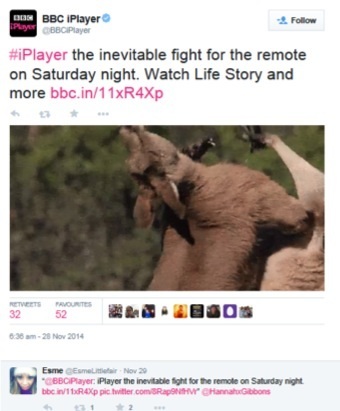 TWITTER VICAR
CREATED AT Y&R LONDON
At Y&R we create an agency project for Valentine's Day- 'Twitter Vicar'. At www.twittervicar.co.uk you could propose and get married to anyone you wanted on Twitter. Tons of lovebirds flew up the aisle and we loved helping spread the love on Valentine's Day.